Compare to other view angles in gait recognition, frontal-view walking is a more challenging problem since it contains minimal gait cues. To facilitate this research, we collect the Front-View Gait (FVG) database in the course of two years, 2017 and 2018. FVG includes significant variations, e.g., walking speed, carrying, and clothing from frontal view angles.
Overview Description
FVG provides frontal walking videos from 226 subjects. In addition, 12 of them were collected twice from the year 2017 and 2018, in total 2,856 videos. The videos were captured by the camera Logitech C920 Pro Webcam or GoPro Hero 5 on a tripod at the height of 1.5 meters at 1, 080 × 1, 920 resolution with the average length of 10 seconds. More details can be found in our paper section 4.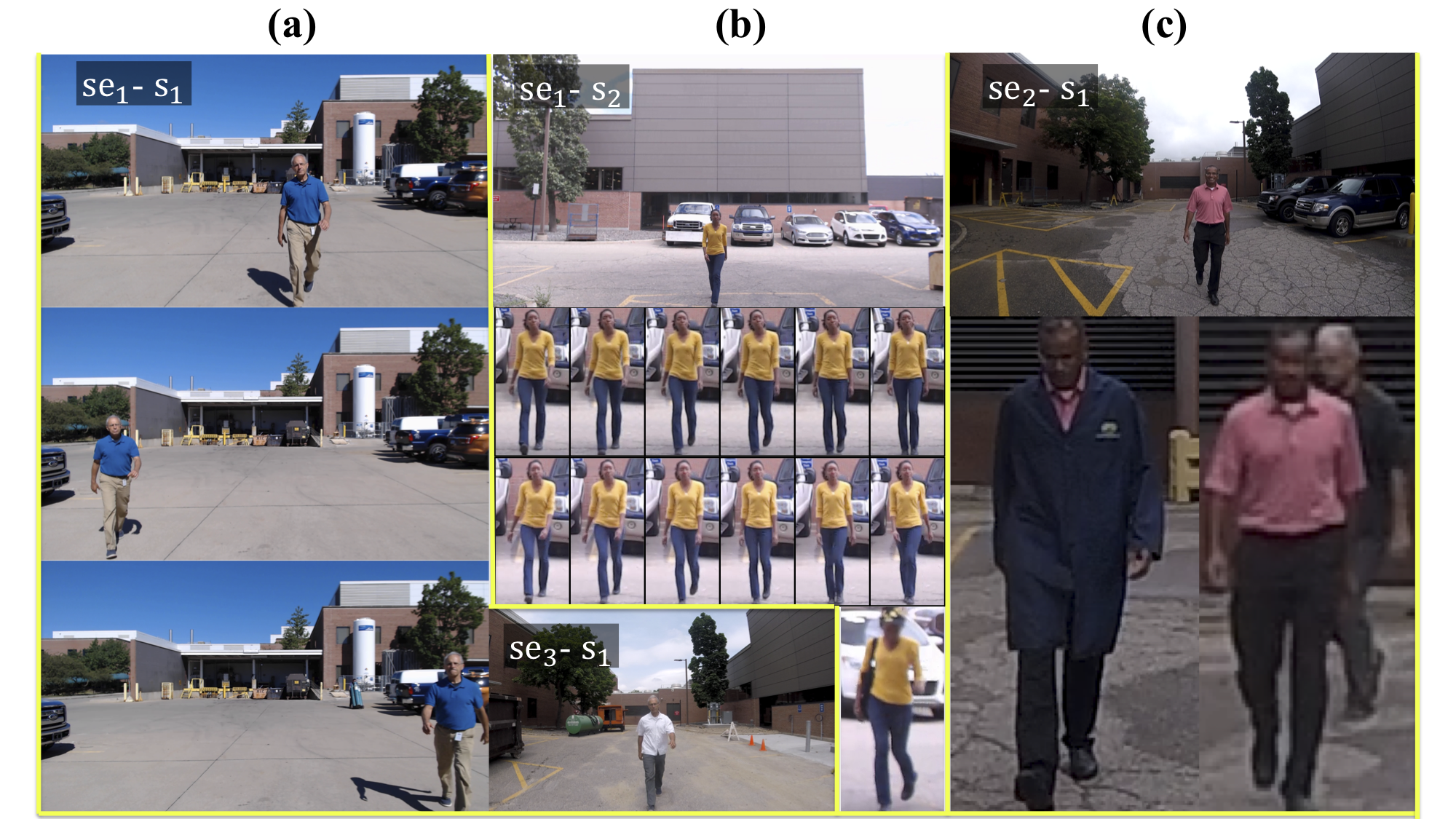 Session Details
FVG is collected in three sessions. In session 1, in 2017, videos from 147 subjects(#1 to 147) are collected with four variations (normal walking, slow walking, fast walking, and carrying status). In session 2, in 2018, videos from additional 79 subjects(#148 to 226) are collected. Variations are normal, slow or fast walking speed, clothes or shoes change, and twilight or cluttered backgrounds. Finally, in session 3, we collect repeated 12 subjects(#1,2,4,7,8,12,13,17,31,40,48,77) in the year 2018 for the extreme challenging test with the same setup as section 1. The purpose is to test how time gaps affect gait, along with changes in clothes/shoes or walking speed.
Files and Naming
All the video files are released as PNG frames, named as frame index, .e.g. 00010.png as frame number 10. Each video folder is named as SubjectID_VideoIndex. SubjectID ranges from 001 to 226. VideoIndex always ranges from 01 to 12. There are three folders session1, session2 and session3. Session 1 contains subjects 1 to 147; session 2 contains and session 3 contains the repeated 12 subjects.

                                        Dataset structure of FVG:

                                            session1
                                                -001_01
                                                    -00001.png
                                                    ...
                                                    -0000x.png
                                                -001_02
                                                ...
                                                -147_12

                                            session2
                                                -148_01
                                                -148_02
                                                ...
                                                -226_12

                                            session3
                                                -001_01
                                                -001_02
                                                ...
                                                -077_12
                
Evaluation Protocols
Evaluation protocols can be found in our paper section 4.
Download
Request for accessing FVG can be submitted via this form.